Two EU members offer jets to Ukraine
Poland and Slovakia will donate Soviet-era warplanes to Kiev, officials from both countries have said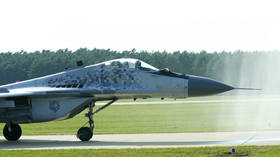 Poland and Slovakia have agreed to hand over Soviet-built MiG-29 fighter aircraft to Ukraine, Slovak Defense Minister Jaro Nad said on Thursday. The day before, Polish President Andrzej Duda declared that his country would donate its entire fleet of MiG-29s.
In a post on Facebook, Nad stated that a Polish official had approached him at a meeting of EU defense ministers in Sweden on Wednesday, confirming that Warsaw would agree to the joint provision of the jets to Ukraine.
In an interview with CNN on Wednesday, Duda said that his country "stands ready to provide these planes."
However, Duda has made similar statements before. In an interview with Sky News last month, he called on NATO to provide Ukraine with modern jets at some point in the future, but said that older MiGs could be sent in the meantime. Polish Prime Minister Mateusz Morawiecki said a day later that Warsaw was "ready" for such a transfer, but would only do so as part of "a coalition with the United States as a leader."
In his Facebook post, Nad wrote that "it's time to make a decision" on sending the planes, suggesting that both countries were still waiting for a green light from the US. However, Washington has indicated it is unlikely to give permission.
Polish Foreign Minister Zbigniew Rau said on Tuesday that his government was "ready to deploy" the country's entire fleet of MiG-29s to the US air base at Ramstein, Germany, from where they would be transferred to Ukraine. The Pentagon rejected this proposal, saying it was "not tenable."
The Polish Air Force has 29 MiG-29s in active service, while Slovakia has 12 in storage.
Kiev has repeatedly requested both Soviet- and Western-made planes from its NATO backers. While the US-led bloc has yet to yield to these requests, the UK announced last month that it would train Ukrainian pilots on "sophisticated NATO-standard fighter jets," and the US is reportedly evaluating Ukrainian pilots' suitability for training on US-made F-16 combat aircraft.
Russia has maintained that the influx of Western weapons into Ukraine will prolong the conflict without altering its outcome. The supply of fighter jets in particular is a "red line" that would place the West at "war against Russia," former Russian President Dmitry Medvedev warned last week.
You can share this story on social media: