Russia launches new communications satellite
The spacecraft will help facilitate data exchange between the International Space Station and Earth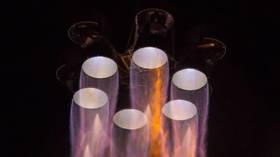 Russian space agency Roscosmos has announced that it successfully launched its Luch-5X communications satellite into orbit on Monday.
The Proton-M carrier rocket, fitted with a Briz-M booster, blasted off from the Baikonur Cosmodrome in Kazakhstan at 2:13am Moscow time, the agency announced.
The launch vehicle functioned as expected, with the upper section separating from the carrier as planned, Roscosmos said.
Several hours later, the agency announced that the Luch-5X had been placed in its designated orbit.
The new satellite "will help improve advanced broadcast and communication technologies," it explained.
It's the fourth launch of a carrier rocket by Russia since the start of the year, and the 115th mission overall for the Proton-M vehicle.
The Luch-5X is part of Russia's Luch Satellite Data Relay Network (SDRN), which was established in 2016.
The system provides for the exchange of data between the Russian segment of the International Space Station (ISS) and the Mission Control Center (TsUP), which is located in the town of Korolev in Moscow Region.
You can share this story on social media: