Failed European space launch blamed on faulty Ukrainian-made part
A key engine component of a Vega-C rocket suffered "thermo-mechanical over-erosion" during a botched launch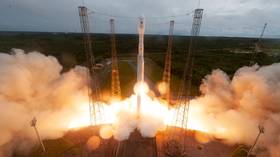 The European Space Agency (ESA) has blamed the recent loss of its main small rocket, the Vega-C, on a faulty Ukrainian-supplied engine part. The results of an independent inquiry into the failed launch were published by the agency on Friday.
The ill-fated launch took place on December 20, when the Vega-C rocket, carrying two observation satellites, blasted off from the Kourou space port in French Guiana. Shortly after lift-off, the rocket deviated from its planned trajectory and controls were lost, forcing officials to destroy it over the Atlantic Ocean.
The probe into the accident traced the malfunction back to the Zefiro 40 solid-fuel second stage of the rocket, which was supplied by Italian airspace company Avio. "Initial investigations, conducted right after the launch with the available flight data, confirmed that the launcher's sub-systems reacted to the events as designed, and that the cause of the failure was a gradual deterioration of the Zefiro 40's nozzle," the ESA said in a statement.
More precisely, the Commission confirmed that the cause was an unexpected thermo-mechanical over-erosion of the carbon-carbon (C-C) throat insert of the nozzle, procured by Avio in Ukraine.
The inquiry ruled out any design flaws in the motor, blaming the failure on the Ukrainian-supplied part and "a flaw in the homogeneity of the material" used. The investigators ruled that the material "can no longer be used for flight" and uncovered flaws in the criteria used to deem the throat insert flightworthy.
"The Independent Enquiry Commission has formulated a series of recommendations aiming at restoring confidence in the Vega and Vega-C launcher systems through the establishment of robust recovery plans to ensure a reliable return to flight and robust commercial exploitation," the agency said.
In particular, a new insert material will be sourced and "additional testing and analysis" will be performed to prove its robustness. The next Vega-C launch is expected to take place "before the end of summer 2023," the agency added.
The latest Vega-C failure has left a major dent in the EU's space operations, given the already limited availability of cargo capacities for commercial satellite launches. The market has been heavily damaged by the conflict between Russia and Ukraine – and the bloc's sanctions over it – thus depriving European space companies of the long-used option of employing Russian Soyuz rockets.
You can share this story on social media: