WATCH asteroid exploding into 'fireball'
Stargazers were blown away by the spectacular light show above the English Channel early on Monday morning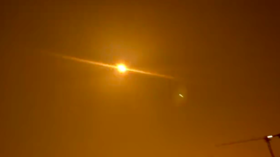 Skywatchers were treated to a rare sight in the early hours of Monday morning when a small asteroid created a spectacular light show as it entered the Earth's atmosphere. The meter-sized object struck the surface of the atmosphere above the French city of Rouen, and created a stunning 'shooting star' effect over the English Channel.
The European Space Agency (ESA) had announced the imminent arrival of the celestial rock on Sunday night. It was only the seventh time scientists have accurately predicted an asteroid striking the atmosphere.
The International Meteor Organization added that the object would land around 2.5 miles from the French coast near the port city of Rouen and that it would create a "fireball" or "shooting star" effect visible to the naked eye at around 3.50am CET on Monday.
This is "a sign of the rapid advancements in global asteroid detection capabilities," the ESA said. The agency added that it expected the rock, which is estimated to have been no bigger than one meter, to "safely strike" the atmosphere, and that there was no threat to life.
One person who apparently witnessed the event wrote on Twitter that it "lit up the sky with a pink flash which was spectacular."
Asteroids are among the most ancient objects in the solar system. They are mainly comprised of ice, rocks, and dust. Space agencies are thought to have tracked more than one million asteroids orbiting the sun – although the actual number of them is thought to vastly exceed that figure.
The ESA says that around 30,600 asteroids travel in an orbit which brings them close to Earth. Small rocks pose little risk to life but scientists are more concerned by larger, so-called 'goldilocks asteroids' which could cause widespread damage if they were to strike the planet.
Last October, NASA announced that an experiment it conducted to change the path of an asteroid had been successful.
You can share this story on social media: