Kremlin refuses to believe in pro-Ukrainian 'Dr. Evil'
Only a well-trained intelligence service could have carried out the Nord Stream sabotage, Putin's spokesman says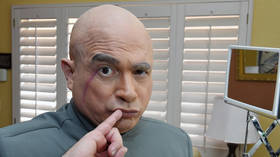 Western media reports claiming that a "pro-Ukrainian group" was behind the explosions on the Nord Stream pipelines last year are not plausible and must not distract from an investigation into the actual perpetrators of the sabotage, Kremlin spokesman Dmitry Peskov has said.
"As for a pro-Ukrainian 'Dr. Evil' who organized this, it's hardly believable. The task was too difficult and was only within the scope of abilities of a well-trained, state-run intelligence service, and there aren't too many of those in the world," Peskov told journalists on Thursday.
Moscow believes that the investigation into the attack on the Nord Stream 1 and 2 pipelines, which were built to deliver Russian gas to Europe via Germany, shouldn't be allowed to be "swept under the rug," Peskov added.
"It's also unacceptable for attention to be distracted to what we call an 'unworthy object,' to some secondary versions and theories," he asserted.
Former Russian President Dmitry Medvedev has also commented on the recent reports in the Western media, branding them "blatant low-rating B-movie stuff." Medvedev claimed they were aimed at "bamboozling" European citizens, who have suffered most of all from the destruction of Nord Stream.
On Tuesday, the New York Times claimed that a "pro-Ukrainian group" may have been behind the sabotage of the pipelines at the bottom of the Baltic Sea last September. The US outlet's anonymous sources insisted that "no American or British nationals were involved" in the operation.
Also this week, several German outlets have reported that the country's investigators probing the Nord Stream blasts had established that a yacht allegedly used in the attack belonged to a Polish-based firm but was "apparently" owned by two Ukrainians.
Commenting on Wednesday, Peskov said that the articles in the US and German media were aimed at overshadowing last month's report by veteran American investigative journalist Seymour Hersh, who blamed Washington for the attack.
According to an informed source who talked to Hersh, explosives were planted on the pipelines back in June 2022 by US Navy divers under the guise of a NATO exercise, and detonated remotely two months later. The White House has denied the claims by the Pulitzer Prize-winning journalist, calling them "utterly false and complete fiction."
You can share this story on social media: