Ex-Russian president mocks Western media's Nord Stream claims
Reports that a "pro-Ukraine" group was behind the sabotage of the pipelines sound like a B movie plot, Dmitry Medvedev has said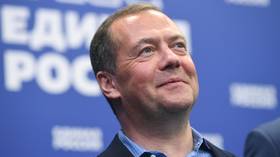 Former Russian President Dmitry Medvedev has ridiculed Western media reports alleging that the attack on the Nord Stream pipelines was carried out by "pro-Ukraine" vigilantes, saying that the sole goal of those publications was to "bamboozle" the European audience.
On Tuesday, the New York Times claimed that a "pro-Ukrainian group" may have been behind the September explosions that disabled the Nord Stream 1 and 2 pipelines, which were built to deliver Russian gas to Europe via Germany. The US paper's anonymous sources stressed in particular that "no American or British nationals were involved" in the operation.
On the same day, a number of German outlets reported that the country's investigators probing the Nord Stream blasts had discovered that a yacht allegedly used in the attack belonged to a Polish-based firm but was "apparently" owned by two Ukrainians.
In his post on Telegram on Thursday, Medvedev made it clear that the idea of sabotage of such scale being carried out by "loners" without the involvement of state actors was simply laughable.
The story offered by the Western outlets to their readers was "blatant low-rating B movie stuff," the official, who is now the deputy chair of the Russian Security Council, commented.
"Six hardened saboteurs, with a lady among them, a femme fatale (how can there be a movie without one?) went out on a yacht into the stormy Baltic Sea. They took half a ton of explosives on board and performed a beautiful dive. And then they blew up two huge pipes at the bottom, before disappearing into the sunset. Unspotted by anybody. In the sea, full of NATO ships and international surveillance systems. They also returned the yacht to the owner, being brutal, but also law-abiding," he wrote.
"The goal of this cheap flick was to bamboozle the Europeans," who are already getting tired of having to pay for the EU's support to Ukraine amid the conflict with Russia, Medvedev said.
However, he pointed out that the "film flopped right after its premier" as the audience began asking "uncomfortable questions," including why the initial claims of Russian involvement are now suddenly being abandoned or why must the EU keep sending arms and money to Ukrainian radicals if they were the ones who destroyed the pipelines.
Kremlin press secretary Dmitry Peskov suggested on Wednesday that those articles were published in order to divert attention from last month's report by veteran American investigative journalist Seymour Hersh, which blamed Washington for the sabotage.
According to an informed source who talked to Hersh, explosives were planted on the pipelines in the Baltic Sea back in June 2022 by US Navy divers under the guise of a NATO exercise, and detonated remotely two months later. The White House has denied the report by the Pulitzer Prize-winning journalist as "utterly false and complete fiction."
You can share this story on social media: