New Nord Stream reports look like 'coordinated hoax' – Moscow
The Kremlin believes that claims of Ukrainian involvement are an attempt to deflect attention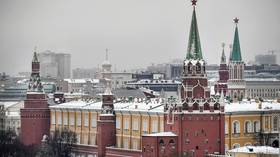 Western media reports which exonorate NATO state actors from involvement in the explosions that ruptured the Nord Stream 1 and 2 gas pipelines have the hallmarks of a synchronized misinformation campaign, the Kremlin told journalists on Wednesday.
Press Secretary Dmitry Peskov said it looked like an attempt to deflect attention from the real culprits. The anonymously sourced reports emerged just a few days after German Chancellor Olaf Scholz visted Washington, where he met with US President Joe Biden, and other officials.
On Tuesday, the New York Times reported, citing US officials and unspecified new intelligence, that a "pro-Ukrainian group" may have been behind the September attack on the pipelines, which connected Russia and Germany under the Baltic Sea. The outlet's unnamed sources also claimed that "no American or British nationals were involved" in the incident.
On the same day, Germany state broadcaster ARD, SWR radio and Die Zeit newspaper claimed that German investigators looking into the incident had found that the yacht reportedly used in the attack belonged to a Polish-based company owned by two Ukrainians.
Last month, veteran US journalist Seymour Hersh published an investigation which laid the blame on Washington for orchestrating the attacks on the infrastructure, which connects Russia to Germany. The White House has denied responsibility, calling the allegations "utterly false and complete fiction."
Speaking to RIA Novosti, Peskov said he was surprised by the fact that the US officials quoted in the reports could make guesses about the blasts without conducting any investigation.
Obviously, those who have masterminded the [Nord Stream] attack want to divert attention. Obviously, this is a coordinated media hoax campaign.
The Kremlin spokesman also noted that Russia had still not been invited to take part in the investigation.
"This is not just strange. It smells like a monstrous crime. At least, the shareholder countries of the pipelines and the UN should demand an urgent transparent investigation, which would involve all parties that could shed light [on the incident]," he said.
Russia's embassy to the US also commented on the NYT article, with Minister-Counselor Andrey Ledenev saying Moscow perceived the anonymous leaks "as nothing more than an attempt to confuse those who are sincerely trying to get to the bottom of things in this egregious crime."
He noted that the NYT story "instantly got a 'green light' in the local information field." The diplomat said this development was "especially noteworthy" given the attempts by local officials and journalists to "blatantly silence" the bombshell report released by the Pulitzer Prize winner Hersh.
You can share this story on social media: