Polish president claims Nord Stream blasts were 'beneficial' for Europe
The sabotage last year disrupted Moscow's plans for 'dominance,' Andrzej Duda has argued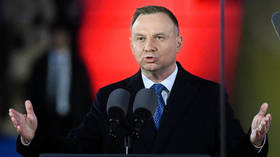 The destruction of the Nord Stream pipelines delivering Russian gas to Europe was a good thing, Polish President Andrzej Duda told CNN on Wednesday. He claimed that the sabotage had freed the continent from Moscow's plans for "dominance," adding that it had ended Poland's dependence on Russian gas.
The comments followed media reports that pro-Ukrainian forces may have been behind the attack on the pipeline, which took place in September 2022. Duda said he could not confirm those claims, but insisted that if Nord Stream ceased to exist, it would be "beneficial" for Europe.
Poland was a major opponent of the gas pipeline project and even lobbied for it to be dismantled in August 2022, roughly a month before the attack. Duda also called the project part of Europe's appeasement strategy in relations with Russia.
Earlier this week, citing US intelligence sources, the New York Times reported that a "pro-Ukrainian group" was behind the September 2022 attack. The outlet also stated that Western intelligence agencies were aware of the identity of the person behind the sabotage, but decided to conceal the information to avoid a spat between Berlin and Kiev because the suspect has ties to Ukraine.
The Polish president, who spoke to CNN during a visit to the United Arab Emirates, also suggested handing all Polish MiG-29 fighter jets over to Kiev, but only as part of an international coalition. "We are ready to deliver these planes, and I am sure that Ukraine would be ready to use them immediately," he said, without specifying how many Soviet-made planes Warsaw still has in its arsenal.
Duda called for Ukrainian pilots to be trained to operate US-made F-16 fighter jets, arguing that Kiev's forces would in any case be eager to be "up to NATO standards." "The training of Ukrainian pilots is important and it is quite necessary," he added.
According to CNN, at least two Ukrainian pilots are currently in the US, where they are using flight simulators to see how much time they would need to learn to fly various American-made military aircraft.
You can share this story on social media: