Claims of Ukrainian link to Nord Stream sabotage 'hypothetical' – Germany
Defense minister tight-lipped on fresh reports about damage to key pipelines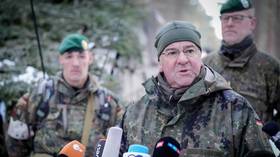 German Defense Minister Boris Pistorius has dodged a question about how the Nord Stream sabotage case could influence Western military aid for Kiev if it turns out that pro-Ukrainian groups were behind the Russian gas pipeline blasts.
It is of no use to speculate on "hypothetical" indications, the minister told national news radio Deutschlandfunk (DLF) on Wednesday, following several media reports linking the incident, which occurred in September 2022, to alleged Ukrainian perpetrators.
"We'll have to wait and see what is actually confirmed," Pistorius told DLF's Barbara Schmidt-Mattern when asked about the media reports. On Tuesday, a host of German media outlets, including Die Zeit newspaper and state broadcaster ARD, reported that a vessel believed to be linked to the Nord Stream sabotage operation allegedly belongs to a Ukrainian-owned company. The reports also said that a Western intelligence agency is thought to have informed European "partner services" that a "Ukrainian commando" unit was behind the attack.
The New York Times reported on the same day, citing US intelligence sources, that a "pro-Ukrainian group" was behind the September 2022 attacks. Pistorius brushed off the claims presented in the reports as "hypothetical" and maintained that the sabotage act might have been aimed at framing Ukraine.
The chance of it being a false-flag operation is as "equally high" as the chance of Ukrainians being behind it, the minister said. Berlin has so far not made any investigation results public. Sweden, Denmark, and Germany have "informed the United Nations Security Council that the investigations are ongoing and that there are still no results," a government spokesman declared on Tuesday.
Pistorius also insisted it would make little sense to "think about what impact this would have on our support for Ukraine on the basis of such a [journalistic] investigation" when asked about the potential fallout of a probe into the Nord Stream sabotage.
The minister said that Germany and its allies continue to supply Kiev "to the best of our ability." He added, though, that Ukraine's Western backers can only provide ammunition for the Ukrainian troops as long as it does not compromise their own defense capacities.
"We need certain reserves to maintain our own ability to defend ourselves," Pistorius said, calling limited defense industry production capacities a real "bottleneck" limiting Western military aid for Ukraine.
His comments came as The Times reported that Western intelligence agencies were well aware of the identity of a person behind the attack on Nord Stream. They decided at the time to conceal this information to avoid a spat between Berlin and Kiev, since the suspect had ties to Ukraine, the paper claimed.
You can share this story on social media: