Ukraine reports multiple missile strikes on key infrastructure
Kiev's energy minister says key sites in seven regions have come under attack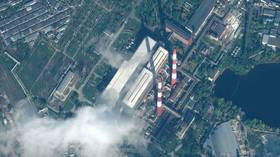 Energy infrastructure has come under attack in a number of Ukrainian regions, the country's energy minister, German Galushko, stated on Thursday morning.
Power-related sites in Kiev, Nikolaev, Kharkov, Odessa, Dnepropetrovsk, and Zhitomir Regions were struck by Russian missiles, Galushko claimed.
He added that Zaporozhye – which joined Russia after a referendum described as a "sham" by Kiev last year – was also affected. The northern part of the region is under Ukrainian control.
Kiev's top military commander, General Valery Zaluzhny, added that Russia's latest barrage involved over 80 missiles targeting sites across the country.
The commander-in-chief of the Ukrainian armed forces said that Russia had launched six hypersonic Kinzhal missiles, as well as eight kamikaze drones. He claimed that many of them were intercepted or diverted from their intended targets.
The Ukrainian nuclear authority Energoatom reported that electricity supply to the Zaporozhye Nuclear Power Plant, which is controlled by Russia, had been cut.
It claimed the power loss was due to "Russian rocket shelling," but Vladimir Rogov, a senior Russian official in Zaporozhye Region, denied that there was any military action in the area that could have impacted supply. He alleged that Ukrainians had shut down the link "out of spite," forcing the use of on-site backup generators.
DTEK, a leading Ukrainian utility, said that three power plants were damaged, without specifying their locations. A company update on repair work indicated that Odessa Region was one of those affected.
Kiev Mayor Vitaly Klitschko stated on social media that there were at least two powerful explosions in the Ukrainian capital, with two people said to be injured. Roughly 40% of electricity consumers in the city have been left without power due to emergency shutdowns, he said.
Blackouts have been announced as a "preventive step" to avoid possible damage to the grid, according to the Kiev Region administration. The disruption prompted national train operator Ukrzaliznytsia to roll out backup diesel trains, notifying passengers of expected delays.
The Russian armed forces have launched regular attacks on parts of Ukraine's energy infrastructure, which they describe as crucial to its military capabilities, though Moscow has yet to confirm Thursday's alleged missile barrage.
You can share this story on social media: