Missile strikes reported across Ukraine
An air-raid alert was declared in all parts of the country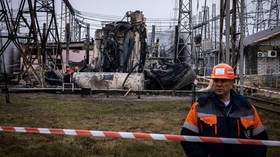 Ukrainian officials and media reported a series of Russian drone and missile attacks targeting the country's critical infrastructure, on Friday. Several barrages reportedly caused power outages and disrupted train services.
The attacks are said to have started early in the morning, and air-raid warnings have since been activated all over the country. The Ukrainian Air Force command claimed it intercepted five kamikaze drones and five sea-launched Kalibr missiles.
Valery Zaluzhny, the commander-in-chief of Ukraine's armed forces, claimed that two Kalibr missiles fired from the Black Sea had crossed the airspace of Romania and Moldova. Moldova's defense ministry reported detecting a missile flying over its territory towards Ukraine, condemning the violation, but would not immediately blame Russia. However, its foreign ministry attributed the action to Moscow and said it would urgently summon the Russian ambassador.
The Russian Defense Ministry has so far not commented on the strikes.
Ukrenergo, Ukraine's energy operator, stated that several high-voltage sites around the country had been hit. Emergency shutdowns are being implemented to preempt possible damage to the power grid from overload, it reported.
Railway operator Ukrzaliznytsia said the power cuts had forced several trains to be delayed, with some electric locomotives being replaced by backup diesel engines.
The administration of Kiev Region reported air-defense action and urged people to stay in shelters. According to Vitaly Klitschko, the mayor of the Ukrainian capital, missile debris damaged a car and the roof of a building.
In Kharkov, several strikes hit industrial and infrastructure objects, according to Igor Terekhov, the head of the region. He warned that residents may experience blackouts and water shortages.
The Russian military has been targeting Ukrainian energy infrastructure, which it considers essential for the country's military capabilities, since October last year. Moscow stepped up pressure after it accused Kiev of using "terrorist tactics" and targeting Russian infrastructure, including the Crimean Bridge. Russian investigators said Ukrainian military intelligence had masterminded the bomb attack on the strategic crossing.
The degradation of Ukraine's energy system has forced the introduction of rolling blackouts.
You can share this story on social media: