Russian nuclear plant guards fired on – official
The incident reportedly happened as the IAEA rotated personnel at Europe's biggest atomic facility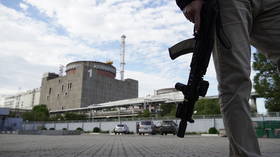 Russian security guards came under fire while overseeing the changing of UN observers at the Zaporozhye nuclear power plant on Thursday, a senior Russian official has reported. He described the incident as a Ukrainian "provocation."
Two unarmed security personnel "came under intensive assault rifle fire," Renat Karchaa, an adviser at Russian national nuclear operator Rosenergoatom, said in an interview on Friday. "Sometime later a Ukrainian machine gun went off. It was targeted fire, and it's a miracle that our two security staff survived," he added.
The official claimed that even Ukrainian troops who were accompanying experts from the International Atomic Energy Agency (IAEA) across the frontline seemed surprised by the incident. Karchaa described the event as demonstrating that the situation "is absolutely out of control in this area."
The transfer location was moved some 300 meters by the UN at the last minute, Karchaa reported, adding that Russian personnel found and disarmed seven booby traps as they walked that distance.
The IAEA mission at Europe's largest nuclear power plant was due to rotate its staff weeks ago, but managed to do so only at the fourth attempt. The head of the agency, Rafael Grossi, praised the successful transfer, calling the presence of inspectors "indispensable to help reduce the risk of a nuclear accident" amid the conflict between Russia and Ukraine.
Karchaa blamed the safety and security department of the UN Technical Secretariat for the delays, saying it repeatedly "invented excuses" for not going ahead with the rotation.
"First they cited intensive fighting in the area, which did not happen. Then there was the non-existent mining by Russia," he told a TV news program.
UN security officials likely took at face value what they were told by the Ukrainian side, Karchaa stated, alleging that Kiev "actually has no interest in nuclear safety" and is using the situation at the Zaporozhye plant "as a tool of manipulation of public opinion."
In its statement on the rotation, the IAEA said that a key power line necessary for the site's safety was recently damaged by "shelling on the other side of the [Dnieper] river." Karchaa said it is absolutely clear "who is shooting from where."
You can share this story on social media: