Belarus reveals details of Ukrainian attack on Russian spy plane
An A-50 aircraft suffered only minor damage in the incident, President Alexander Lukashenko has reported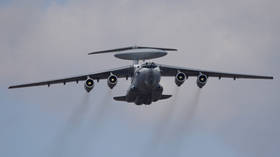 Belarusian media have shown footage showing the detention of suspects who apparently attempted to sabotage a Russian Air Force plane at an airfield near Minsk last week. The main alleged operative is a dual citizen of both Russia and Ukraine, named as Nikolay Shvets.
President Alexander Lukashenko claimed on Tuesday that Shvets was working on behalf of Kiev. He confirmed media reports of a drone strike on Machulishchy air base, but claimed the coverage had exaggerated the damage caused to a Russian A-50 early warning and control aircraft stationed there.
The plane received only "scratches and a hole in the hull, which doesn't prevent the military aircraft from performing its duties," he said.
However, Lukashenko added that Minsk had still asked Moscow to take the aircraft back for repairs and to replace it.
Belarusian officials claimed that Shvets had entered the country via Russia. As he could not pass through the closed Ukrainian border, he allegedly traveled from Poland to Latvia and crossed into the western Pskov Region.
During interrogation, he allegedly admitted working for the SBU, Ukraine's secret police organization which succeeded the Soviet KGB after 1991.
Lukashenko described the attacker as "an IT specialist or someone versed in IT technologies."
The sabotage attempt on the Belarusian airfield was carefully planned and involved "state-of-the-art" technologies, including "control software developed by the CIA," the president pointed out.
Those behind the attack refrained from using a larger UAV, as it would have been detected by Belarusian radars. Instead, they relied on a "small drone" that could easily be purchased online, Lukashenko claimed. The specific UAV that targeted the Russian plane was made in China and sold in the US before arriving in Ukraine, he added.
The Russian side has not yet provided any comment on the alleged incident involving its plane.
According to RIA-Novosti, the aircraft in question had been deployed in Machulishchy as part of a joint Russian-Belarusian military grouping created last year. It recently took part in a drill staged by the two allies between January 16 and February 1.
You can share this story on social media: