Russia's closest ally provides details on new militia
The force is needed amid the conflict in Ukraine, the Belarusian defense minister says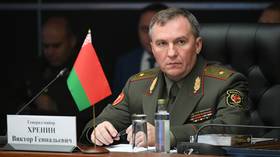 The new people's militia being created in Belarus could number up to 150,000 personnel, according to Defense Minister Viktor Khrenin.
Minsk is closely monitoring developments in Ukraine and sees the need for a people's force in addition to the country's military, Khrenin told the Belarus Segodnya outlet on Monday.
The new militia will be tasked with "helping the local authorities maintain order during martial law," which could be introduced if a conflict in a neighboring state spills over into Belarus, he said.
"Activities of various sabotage groups, spikes in crime, looting – anything could happen," the minister noted of the challenges that the new force may face.
First and foremost, units will be needed in rural areas "where one district police officer sometimes services several village councils," Khrenin stated, adding that the people's militia could also be deployed in cities if the local authorities deem it necessary.
Belarus has allowed close ally Moscow to use its territory during the military operation in Ukraine, but has declined to involve its own forces in the fighting. Belarusian President Alexander Lukashenko said last week that the situation would change only if Ukraine launched a direct attack on his country.
Kiev has insisted it does not have aggressive intentions towards its neighbor, but warned that it is "prepared for any scenario." Ukraine has also been actively working to fortify its border with Belarus.
Moscow and Minsk set up a joint military force on Belarusian territory in the fall to address perceived threats from the West, which, according to Lukashenko, is eager to drag the country into the Ukrainian conflict in order to extend the frontline and stretch the Russian forces.
You can share this story on social media: