Ex-Russian president warns against German tank plant plan for Ukraine
Dmitry Medvedev has called Rheinmetall's proposal "primitive trolling"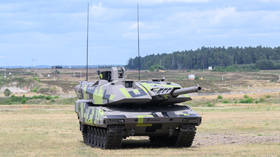 Former Russian President Dmitry Medvedev has promised "fireworks" should a proposed German tank plant be constructed in Ukraine. Plans to build a factory were announced by the CEO of arms giant Rheinmetall, Armin Papperger, in an interview with the newspaper Rheinische Post published on Saturday.
The company is in talks with Kiev over establishing the €200 million (around $212 million) tank plant, according to the Rheinmetall boss.
"A Rheinmetall plant can be set up in Ukraine for around €200 million, which can produce up to 400 Panthers a year," Papperger stated, referring to the company's latest Panther KF51 tank unveiled last June. This type of tank is based on Germany's Leopard 2 main battle tanks, but boasts a larger 130mm gun that is fitted with a fully automated loading system.
"Talks with the Ukrainian government are promising and I hope for a final solution in the next two months," Papperger said.
The announcement was met with skepticism by the ex-Russian leader, who said in a Telegram post that it looked like an example of "primitive trolling." Medvedev warned that should the "supposedly pragmatic" Germans actually decide to build the facility, it would inevitably become a target for Russia and be subjected to missile strikes.
"This event will be properly marked by Kalibr fireworks and other pyrotechnical devices," Medvedev wrote.
Germany, one of Kiev's top supporters in its ongoing conflict with Moscow, gave in to Ukraine's repeated demands to send it modern main battle tanks in late January. The government pledged to deliver at least 14 Leopard 2 tanks from the Bundeswehr's inventory and also agreed to allow other operators of the German-made armor to do the same.
Rheinmetall, a top German arms contractor, has separately pledged to deliver a number of older Leopard 1 tanks to Kiev as well, procuring 88 retired vehicles from Italy. Back in February, Papperger said the tanks needed to be rebuilt completely before they can be sent to Kiev, with only up to 25 Leopards expected to make it to Ukraine this year.
Moscow has repeatedly urged the collective West against "pumping" Ukraine with assorted weaponry, warning that the continuous support of Kiev will only prolong the hostilities and the suffering of ordinary Ukrainians rather than change the ultimate outcome of the conflict.
You can share this story on social media: