Germany cannot defend itself – defense minister
Boris Pistorius has claimed the government neglected the armed forces for decades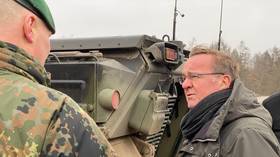 German Defense Minister Boris Pistorius claimed on Monday that the country's army isn't prepared to protect the nation against military aggression. The minister made the remarks during a meeting with fellow members of the Social Democratic Party (SPD).

"We have no armed forces that are capable of defending [the country], that is, capable of defending [it] against an offensive, brutally waged aggressive war," Pistorius said.
The minister said the Bundeswehr is understaffed and under-equipped after decades of neglect from the federal government. Pistorius added that Germany would have to invest much more in its military in order to be up to NATO standards.
Lieutenant General Alfons Mais, the commander and highest ranking officer of the German army, told the DPA press agency on Sunday that the €100 billion previously promised by Chancellor Olaf Scholz would not be enough to make the country's armed forces battle ready. He further added that "the army that I have the duty to lead is more or less bare."
Further remarks about the Bundeswehr's lack of combat readiness came from the chairman of the German Armed Forces Association, Colonel Andre Wustner, who claimed in an interview on Sunday to Bild that of the approximately 300 Leopard 2 tanks in stock, "only 30% are currently operational."
Despite this assessment, Germany has been providing extensive support to Ukraine in the conflict with Russia, sometimes at the expense of its own defense capabilities. Armin Papperger, CEO of Rheinmetall, the country's top military contractor, told the Pioneer podcast on Tuesday that the government transferred to Ukraine two state-of-the-art air defense systems that were meant to protect the German capital.
Berlin's continued weapon shipments to Ukraine have also been met with protest among Germans. Die Linke (Left Party) organized a rally on Saturday calling for Scholz to stop arming Kiev that organizers claimed was attended by around 50,000 people.
Moscow has voiced its stance over Western arms deliveries to Kiev on numerous occasions. Russian Foreign Minister Sergey Lavrov said in a February interview to the Rossiya 24 TV channel that if longer-range weapons are supplied to Kiev, Ukrainian forces will have to be pushed back further from Russian territories in response.
You can share this story on social media: