Putin condemns 'terrorist attack'
Gunmen attacked civilians after crossing the border, the Russian president said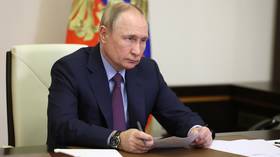 President Vladimir Putin has described as a "terrorist attack" an incident in Russia's Bryansk Region that involved Ukrainian saboteurs. The statement came after the regional governor and national security service reported a cross-border raid targeting two settlements earlier on Thursday.
Gunmen "infiltrated the border area and opened fire at civilians. They could see the vehicle was civilian, that civilians were inside, children… and opened fire," the Russian leader said.
Putin's spokesman, Dmitry Peskov, earlier told journalists that "measures are being taken to destroy these terrorists." He added that Moscow will continue "to draw the attention of the global public to the terrorist attacks that these people conduct."
Russian officials accused Kiev of using terrorist tactics after a powerful explosion at the Crimean Bridge in October killed three civilians and damaged the structure. Putin said at the time that it was the latest Ukrainian attack against crucial Russian infrastructure. The Russian Federal Security Service (FSB) accused Ukrainian military intelligence of executing the bombing.
Another high-profile incident which Russian investigators pinned on the Ukrainian government was the August assassination of Darya Dugina, whose car was blown up near Moscow. Dugina was a political activist and the daughter of philosopher Aleksandr Dugin, whom Western media have described as a prominent Russian nationalist.
Putin mentioned Dugina on Thursday and said that people like the ones who carried out her murder were also responsible for the latest raid. The leader identified them as "neo-Nazis and terrorists" as he praised Russian troops for defending the country from them.
Bryansk Region Governor Aleksandr Bogomaz claimed that "a sabotage-reconnaissance group intruded from Ukraine" earlier in the day and targeted two villages. He said the infiltrators fired at a moving car, killing a local resident.
You can share this story on social media: