Russian forces hunting Ukrainian saboteurs that violated border – FSB
The Bryansk region governor earlier said at least one man had been killed by a group of attackers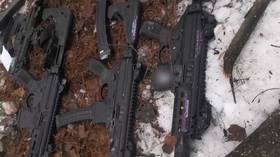 Russian forces are conducting an operation against a group of Ukrainian saboteurs that intruded across the border into Bryansk region, the Federal Security Service (FSB) said on Thursday.
In a statement, the service said that "the FSB and the attached forces of the Russian Ministry of Defense are taking measures to destroy armed Ukrainian nationalists who violated the state border" in the Klimovsky district of Bryansk region.
Earlier in the day, Aleksandr Bogomaz, the region's governor, said that a group of Ukrainian operatives had launched a raid into the area and that the group attacked a moving car, killing one person and injuring a ten-year-old child.
Some media reports suggested that the saboteurs also had taken several local residents hostage, a claim that has not been confirmed by local authorities.
Russia's regions bordering Ukraine have been repeatedly attacked by Kiev's forces in recent months. On Thursday, Kursk governor Roman Starovoit wrote in a Telegram post that Ukrainian troops had shelled a local village. Kursk officials confirmed that one person was killed in the attack.
You can share this story on social media: