Russian governor reports Ukrainian attack on border villages
A few dozen 'saboteurs' have allegedly targeted two settlements near the countries' shared frontier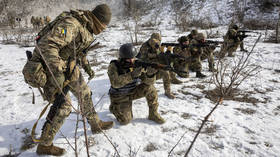 A group of Ukrainian operatives has launched a raid across the border in Russia's Bryansk Region, local governor Aleksandr Bogomaz claimed on Thursday. Fighting is reportedly ongoing in two border villages, Lyubechane and Sushany, which are about 20km apart. There is also unconfirmed information about deaths and injuries.
Writing on Telegram, Bogomaz stated that "today a sabotage-reconnaissance group intruded from Ukraine."
"Saboteurs fired at a moving car. As a result of the attack, one local resident was killed, with a ten-year-old child wounded," he added. The child has been taken to hospital, the official said.
Russian forces "are taking all the necessary measures to eliminate the saboteur group," Bogomaz added, without providing details on how many apparently Ukrainian personnel had taken part in the alleged attack.
The group is said to have attacked a school bus, a claim which has not been verified. Other unconfirmed reports indicated that the children were rescued by eyewitnesses. A passing car picked up three children, including a wounded boy who was shot in the back, reports claimed.
Unconfirmed reports on social media suggested that the region has been attacked by two Ukrainian groups with a combined strength of 50, who took an unspecified number of residents hostage in the village of Sushany. It was also reported that security forces are confronting the attackers.
There has been no official confirmation of the claims, although Bogomaz claimed that Kiev had earlier staged a drone attack on Sushany.
You can share this story on social media: