Russia reports success against Ukrainian drone incursion
The aircraft had targeted civilian infrastructure but the military drove them off course, the Defense Ministry said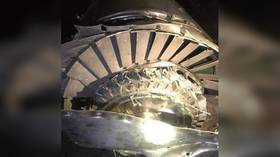 Kiev's forces launched drone attacks on Russia's southern Krasnodar Region and Adygea Republic, but they were successfully repelled by the military, the Russian Defense Ministry has reported. Images of one of the aircraft were apparently shared by a regional head.
The incursions happened in the early hours of Tuesday and targeted civilian infrastructure, according to a statement released by the ministry. Russian forces used electronic warfare to suppress the two drones, causing them to veer off course. One "fell in a field," while the other "failed to cause any damage" to its target, the ministry said.
Earlier in the day, Adygea head Murat Kumpilov shared images showing the wreckage of an unidentified aircraft, which he said was discovered near the village of Novoye, located to the north of the provincial capital Maykop. The official said the crash resulted in no injuries, but caused minor damage to an outbuilding on a farm.
Meanwhile, there was a fire overnight at an oil refinery in the city of Tuapse in Krasnodar Region. Municipal head Sergey Boyko said the blaze had broken out in a technical building, but did not spread to fuel tanks and was extinguished by firefighters within 30 minutes.
Some Russian media claimed, citing anonymous sources, that the fire was caused by a failed attack involving unmanned aerial vehicles (UAVs). According to these reports, as many as two aircraft carrying explosives crashed some 100 meters from the fuel reservoirs, damaging a boiler room instead.
In Belgorod Region, which borders Ukraine, three drone wreckages were discovered in the provincial capital on Monday evening. One of the UAVs crashed through the window of an apartment building, prompting evacuation.
Some media claimed the drones were Ukrainian and carried British-made plastic explosives, based on images of the debris.
You can share this story on social media: