Russia calls for focus on alleged radioactive shipment to Ukraine
The Foreign Ministry has drawn attention to claims about the possible delivery of Californium-252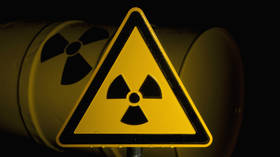 International organizations should take a look at reports of highly radioactive material being delivered to Ukraine's Black Sea port of Odessa, the Russian Foreign Ministry said on Wednesday. Spokeswoman Maria Zakharova voiced concerns that the alleged shipment happened near Moldova's breakaway Transnistria region. Ukraine has been "deliberately stirring up tension" in the area, she said.
According to unconfirmed claims that appeared on social media last week, a ship carrying containers of Californium-252, a synthetic radioactive element, arrived in Odessa on February 19. It was also claimed that the radioactive monitoring system was turned off during the offloading process. Zakharova mentioned reports that the cargo was supplied by the Ohio-based company Frontier Technology Corporation.
The spokeswoman also mentioned allegations that, on February 16, unspecified radioactive material was delivered to the port city of Chernomorsk, near Odessa, "from the territory of one of the European countries." Allegedly the supposed delivery was not subjected to customs control.
"We call on the appropriate international organizations to pay close attention to this information," Zakharova said.
The Moldovan government, meanwhile, said it was "not commenting on lies and speculation" regarding Transnistria. It added that its authorities were monitoring the situation and stated they "do not confirm the information disseminated by the Russian side."
Last week, the Russian Defense Ministry accused Kiev of planning to invade Transnistria, whose population is largely Russian-speaking and where Russian peacekeepers are stationed. Both Ukraine and Moldova denied these allegations at the time.
Frontier Technology Corporation produces Californium-252 neutron sources and containers designed to transport radioactive material. Californium-252 is used in scanners and for fission in nuclear reactors, as well as for cancer treatment and geological surveys, according to the company's website.
Last year, Moscow alleged that Ukraine was preparing to detonate a "dirty bomb," which is typically understood as a conventional munition with radioactive elements. Kiev rejected the claim.
You can share this story on social media: