Russia warns US, NATO, and Ukraine over Transnistria
Moscow says it will respond to any "provocation" by Kiev against Russian peacekeepers in the Moldovan breakaway region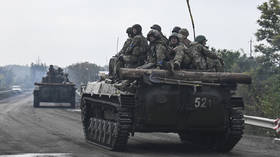 Any action by Ukraine or the West that poses a threat to Russian peacekeepers or nationals in the Moldovan breakaway region of Transnistria will be seen as an attack on Russia, the country's Foreign Ministry has stated. It warned Kiev and its Western backers against carrying out "provocations" there.
In a statement released on Friday, Russian diplomats cited data from the country's Defense Ministry, according to which Ukraine has amassed considerable numbers of military personnel, as well as hardware and artillery on its border with Transnistria. In light of this, Moscow warned the "US, NATO member states and their Ukrainian underlings against any further adventurous steps."
While Russia favors "political-diplomatic" ways of resolving issues, "no one should have any doubt that the Russian armed forces will react appropriately to any provocation by the Kiev regime," the statement reads.
Moscow stressed that it is determined to protect its citizens, peacekeepers, and military personnel stationed in Moldova's breakaway region.
Any actions posing a threat to their security will be viewed, according to international law, as an attack against the Russian Federation.
The report of a Ukrainian military buildup along the country's border with Transnistria was issued by the Russian Defense Ministry on Thursday.
The territory on the left bank of the Dniester River proclaimed independence from Moldova in the early 1990s, shortly after the collapse of the Soviet Union. Around 1,100 Russian soldiers are stationed in Transnistria as peacekeepers in order to monitor a 1992 ceasefire between Moldovan and local forces.
You can share this story on social media: