Ukraine poised to invade neighbor – Russian MOD
Kiev is amassing troops near the border with Moldova's breakaway Transnistria region, according to the military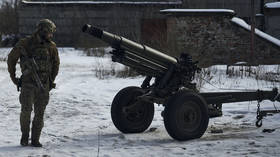 Ukraine is gearing up to invade Moldova's breakaway Transnistria region, the Russian Defense Ministry claimed on Thursday evening.
The MOD reported a "significant buildup of Ukrainian military personnel and equipment near the Ukrainian-Transnistrian border," as well as the setting up of artillery positions and an "unprecedented" increase of drone flights over the region.
"The Russian Armed Forces will respond appropriately to the impending provocation by the Ukrainian side," the ministry said.
The territory on the left bank of the Dniester River broke away from Moldova and declared itself an independent republic in the early 1990s. Its predominantly Russian-speaking population did not want to remain a minority in the country, which itself became independent during the breakup of the Soviet Union.
Around 1,100 Russian soldiers are stationed in Transnistria as peacekeepers, monitoring the 1992 ceasefire between Moldovan and local forces. It is estimated that half of Transnistria's 500,000 residents now have Russian citizenship.
In a statement on Thursday, the Russian MOD said the potential attack from Ukraine "would be conducted in response to a supposed Russian offensive from the territory Transnistria."
Valeriu Mija, Moldova's secretary of state for defense, dismissed Russia's claim as "an element of a psychological operation." He added that the authorities are monitoring the situation on the ground.
The news comes amid tensions between Moscow and Chisinau. Moldovan President Maia Sandu accused Russia earlier this month of plotting to topple the government in her country. On Tuesday, Prime Minister Dorin Recean said that Russian peacekeepers should leave Transnistria.
Moscow denied the allegations of plotting a coup in Moldova and said it is not attempting to meddle in the country's domestic affairs.
You can share this story on social media: