Ex-Soviet state wants Russian peacekeepers to leave
Ukrainian troops were spotted near Transnistria as Moldova again raised "reintegrating" the breakaway region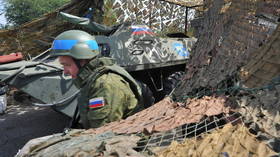 Troops and weapons "illegally" present in Transnistria need to be evacuated to Russia as part of a "peaceful resolution" of the Ukraine conflict, Moldovan Prime Minister Dorin Recean told reporters on Tuesday. Meanwhile, Ukrainian troops were spotted approaching the breakaway region and its vast stores of weapons and ammunition.
Recean took office last week, after his predecessor resigned, citing a lack of popular support. He has since brought up Transnistria on at least two occasions since assuming office. He has previously argued for "demilitarization" of the region, so its residents can be "economically and socially reintegrated" into Moldova.
The territory on the left bank of the Dniester River, known as Transnistria, broke away from Moldova in the early 1990s. The mainly Russian-speaking population did not want to remain a minority in the Romanian-speaking former Soviet republic after it gained independence. It is estimated that half of Transnistria's 500,000 residents now have Russian citizenship.
About 1,100 Russian troops are currently deployed to the breakaway region as peacekeepers, keeping an eye on the ceasefire reached in the summer of 1992, as well as the warehouses of weapons and ammunition left over from the Soviet Union.
Ukrainian President Vladimir Zelensky has claimed that Moscow is preparing to overthrow the government in Moldova. He told German outlet Die Welt that Russian paratroopers might storm the country's only airport in the capital, Chisinau, and that Ukraine was willing to "help" if this happens.
Asked about this on Tuesday, Recean told state TV that there are "several scenarios of destabilization" and that the airport attack is one of them, but that Moldova is "ready to face such a challenge." Later in the day, a convoy of Ukrainian troops and armored vehicles was photographed moving towards the border with Transnistria.
Meanwhile, Moldovan President Maia Sandu was in Poland, where she met with US President Joe Biden. In a speech delivered in Warsaw, Biden praised the "freedom-loving people of Moldova" and pledged support for the country's "sovereignty and territorial integrity."
Russian Foreign Minister Sergey Lavrov said earlier this month that the US and its allies were trying to make Moldova into another anti-Russian bastion along the lines of Ukraine, suggesting Sandu came to power "through some very peculiar methods" and was willing to do anything to be annexed by Romania. The EU granted both Moldova and Ukraine candidate status last year, as a symbolic gesture against Moscow.
You can share this story on social media: