EU applicant's government resigns
Moldova's prime minister has stepped down amid allegations of crackdowns on dissent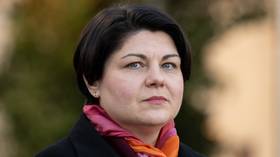 Moldovan Prime Minister Natalia Gavrilita resigned on Friday, precipitating a change in government for the economically-troubled and politically-unstable nation.
Gavrilita did not divulge the reasons behind her decision in her farewell speech, which focused on what she described as the achievements of her team during her short-lived tenure.
"I am proud to have accelerated infrastructure projects that were stagnating due to incompetence and corruption," the politician said. Her government "preserved peace and economic stability" despite efforts by "agents of destabilization," she added.
Gavrilita announced her resignation after holding a meeting with Moldovan President Maia Sandu, who accepted it immediately. In a Facebook post, the president thanked the former PM for her efforts in governing Moldova at a time of "unprecedented challenges."
The outgoing cabinet took the helm in August 2021, after the Sandu-founded Party of Action and Solidarity won a snap election a month earlier. Rumors about the government's imminent collapse have been swirling in Moldova since Monday.
For months last year, the government in Chisinau faced mass protests over rising energy prices and worsening standards of living, which followed a feud with Russian gas giant Gazprom over the terms of fuel supplies. The demonstrations also had a political aspect, as the government was accused of cracking down on the opposition.
Former president Igor Dodon, whom Sandu beat at the ballot box in 2020, is facing a number of criminal charges, ranging from corruption and illegal campaign financing to falsifying medical documents. His supporters believe the investigations are politically motivated, since Dodon, an advocate of good relations with Russia, has been criticizing Sandu's pro-Western stance.
Amid the protests, the government forced several Russian-language media outlets to go off air when it refused to renew their broadcasting licenses in December. Since October, Moldova has been living in a state of emergency, which the opposition claims is just a method of preventing mass gatherings of discontent citizens.
Russian Foreign Minister Sergey Lavrov assessed last week that Moldova may become "a new Ukraine" in the sense of adopting anti-Russian policies despite how much they may hurt the country. He said Sandu was a major factor, because she was ready to do "practically anything" to further her pro-Western agenda.
Last June, the EU granted Moldova a candidate status alongside fellow applicant Ukraine.
You can share this story on social media: