Russian foreign minister warns about 'next Ukraine'
Sergey Lavrov says the West is pushing the ex-Soviet republic of Moldova to align with NATO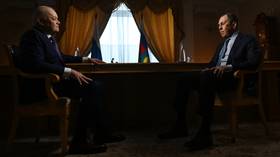 Moldova could follow in Ukraine's footsteps and become a new "anti-Russia," Moscow's Foreign Minister Sergey Lavrov has suggested in an interview with the Russian media. The diplomat claimed that the West had installed a president in Chisinau who is hell-bent on bringing the former Soviet republic into the US-led fold.
On Thursday, Russia's RIA Novosti and Rossiya 24 media outlets published an interview with Lavrov. He was asked which country, in his opinion, could go down the same path as Ukraine and become an "anti-Russia."
The foreign minister responded by claiming the West was "currently considering Moldova for this role." He said the country had been chosen primarily because the West succeeded in installing "through some very peculiar methods, far from free and democratic [ones]," a pliant president at the helm there.
Maia Sandu is "rushing into NATO" and "has Romanian citizenship," Lavrov noted.
The diplomat concluded that the Moldovan head of state is ready to merge her country with neighboring Romania and to "do practically anything."
Lavrov said the West and Moldova's leadership have effectively put on hold the normalization process regarding the breakaway region of Transnistria in the 5+2 format. This involves the US and Russia, along with the United Nations and the Organization for Security and Co-operation in Europe, as well as Moldova and Transnistria. He claimed that the new Moldovan government is no longer interested in the process and is considering retaking the region by force and booting Russian peacekeepers out of Transnistria.
Late last month, President Sandu told Politico "there [was] a serious discussion" underway in Chisinau "about our capacity to defend ourselves, whether we can do it ourselves, or whether we should be part of a larger alliance."
While she did not identify NATO directly, Sandu has consistently been pursuing pro-Western policies since coming to office back in 2020.
Moldova was granted EU candidate status last year. It has also been actively cooperating with NATO in recent years, sending its troops to participate in the military bloc's force in Kosovo.
The Moldovan president held a meeting with NATO Secretary General Jens Stoltenberg in New York in September 2021, and the country's foreign minister attended a meeting of the organization in Romania last December.
However, the outstanding issue of Transnistria precludes Moldova from becoming a member state of the US-led organization, as NATO requires all aspiring entrants to resolve all territorial and ethnic disputes first.
You can share this story on social media: