Reason for air traffic halt over St. Petersburg revealed
Fighter jets were scrambled in area as part of drills, the Defense Ministry says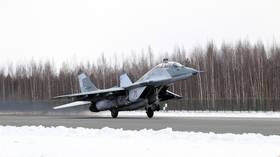 Russian air defense forces held drills aimed at enhancing cooperation with civilian authorities in the country's western military district on Tuesday, the Defense Ministry has announced.
Earlier in the day, the airspace over St. Petersburg, the country's second-largest city, was closed for around an hour before flights fully resumed. The local authorities confirmed that Pulkovo International Airport had stopped receiving aircraft but did not reveal the reason behind the move.
Meanwhile, reports in the media claimed the restrictions had been introduced after an unidentified flying object was spotted near the city.
The Defense Ministry issued a statement a short time later, saying on-duty air defense units attached to the western military district had been training to identify and intercept a simulated aerial intruder as part of drills in the area.
The other goal of the exercises was to enhance cooperation with civilian security agencies and emergency services in the event of an actual incursion in Russia's airspace, the statement read.
Fighter jets were scrambled as part of the exercise, the Defense Ministry added, confirming reports by the locals who claimed to have heard warplanes flying overhead.
The western military district, which has its headquarters in St. Petersburg, covers the city itself and the surrounding Leningrad Region.
Also on Tuesday, Governor of Moscow Region Andrey Vorobyov said a drone had crashed near the town of Kolomna, some 114km (71 miles) southeast of the capital Moscow. The UAV, which was suspected to be Ukrainian, may have been aiming to attack a gas facility in the area, but failed to reach its target, Vorobyov suggested. There were no injuries or damage as a result of the incident, he added.
Earlier in the day, the Defense Ministry reported that Ukraine had also attempted to use drones to attack civilian infrastructure in the southern region of Krasnodar and the Republic of Adygea. The UAVs were suppressed by electronic warfare units and failed to cause any damage, it added.
You can share this story on social media: