Russian spy chief reacts to claim by CIA Director
William Burns suggested that Sergey Naryshkin showed signs of "hubris" during talks in Ankara last November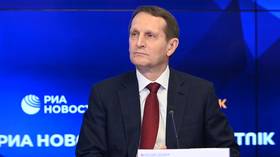 The head of Russia's Foreign Intelligence Service (SVR) has given a positive assessment of last November's talks with the CIA director in Türkiye. Sergey Naryshkin's remarks came after William Burns accused his Russian counterpart of displaying "a very defiant attitude" and "a sense of cockiness and hubris" during the negotiations.
Speaking to reporters on Monday, Naryshkin was asked to comment on the remarks made by Burns in a CBS News interview, during which he described the high-level meeting between the two as "pretty dispiriting."
"I still positively assess the nature and results of the meeting with my colleague William Burns", Naryshkin said, noting that the negotiations in Türkiye's capital were substantial and proceeded "in a very comfortable atmosphere."
Moscow's spy chief went on to express his "great respect" for his American counterpart. Burns is "a very experienced, skilful diplomat… who, perhaps, has not yet obtained a lot of experience" as CIA Director, Naryshkin remarked.
The SVR chief noted that the negotiations went on for 2.5 hours. "This alone shows that the meeting could hardly last as long as it did if one of the sides behaved cockily, rudely, arrogantly," he added.
Naryshkin also speculated as to why Burns may have got such an impression. "Maybe, he understood that during this conversation, during these talks, I was leaning not only on my opinion… but on the opinion of the many millions of Russian people."
The meeting took place in Ankara in mid-November and is believed to have been the first in-person contact between top US and Russian officials since Moscow launched its military campaign in Ukraine in February 2022.
At the time, the White House said Burns was "conveying a message on the consequences of the use of nuclear weapons by Russia, and the risks of escalation to strategic stability." Russian Foreign Minister Sergey Lavrov said the meeting was organized at the request of US President Joe Biden.
In late November, Naryshkin himself told Russian media that aside from issues of nuclear security, the meeting was dedicated to the conflict in Ukraine.
You can share this story on social media: