Ukraine's neighbor issues update on NATO membership
Moldova must be able to protect itself, but not by joining the US-led military bloc, its parliamentary speaker says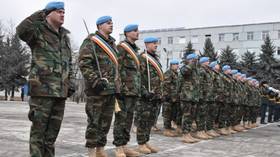 The possibility of joining NATO isn't being considered by Moldovan officials, the speaker of the country's parliament Igor Grosu has said. President Maia Sandu had previously hinted that the country could become "part of a larger alliance" to guarantee its security.
"If we speak frankly about whether we want this, whether the issue of Moldova's membership in NATO is being raised, then I'll say that there's no such issue," Grosu told Prime broadcaster on Saturday.
The speaker, who represents the ruling Party of Action and Solidarity, said his clarification was intended "to refute all speculation and all hysteria" surrounding the matter in the country.
Moldova will remain "neutral," but it must still pay extra attention to its security due to the ongoing conflict in neighboring Ukraine, he added. The emphasis should be put on protecting the country's airspace, according to Grosu.
When asked about the possibility of Moldova becoming a NATO member in an interview with Politico last month, President Sandu said "there is a serious discussion… about our capacity to defend ourselves, whether we can do it ourselves, or whether we should be part of a larger alliance." If the country ever decides to give up its neutrality, "this should happen through a democratic process," she outlined.
On Saturday, there were protests in the capital Chisinau against the increasingly militant rhetoric of Sandu's government, which, according to the demonstrators, could result in Moldova being dragged into the conflict in Ukraine. Activists carried banners reading "The Moldovans want peace" and "Stop scaring the people."
Moldova – a country of 2.6 million people located between Ukraine and Romania – has been making a lot of headlines recently. Earlier this month, Sandu claimed that Russia was planning to orchestrate a coup in the country in response to its pro-Western policies.
Chisinau has also called for 1,100 Russian peacekeepers to be withdrawn from the breakaway region of Transnistria, where they've been monitoring a ceasefire between Moldova and local forces since 1992.
Kremlin Press Secretary Dmitry Peskov advised the Moldovan authorities against "falling into anti-Russian hysteria," pointing out that such statements were harming bilateral relations between Moscow and Chisinau.
On Friday, the Russian Foreign Ministry warned the US, NATO and Kiev authorities against any "provocations" aimed at the Russian peacekeepers in the area. The message followed a report by the Russian military that a significant number of Ukrainian troops, hardware and artillery was amassed on the border with Transnistria.
You can share this story on social media: