Ex-Russian president explains how 'trophy' weapons are used
Russia examined Western-supplied arms seized in Ukraine and learned some 'useful things', Dmitry Medvedev says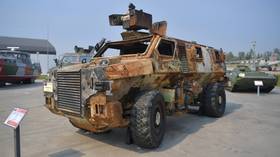 Russian arms makers have carefully studied Western weapons captured during the fighting in Ukraine and used this experience for the benefit of the country's military, former Russian President Dmitry Medvedev has said.
"Our country's defense industry is working in such a manner that no large-scale supply of Western weapons to our enemies will be able to assure [Kiev] the advantage on the contact line," Medvedev, who is now the deputy chair of the Security Council, pointed out in an article published in the Natsyonalnaya Oborona (National Defense) magazine on Saturday.
During the conflict in Ukraine, Russia managed to not only expand the production of military hardware, but also introduce new technologies and improve them, while remaining "on the march," he pointed out.
"By the way, we've also studied enemy weapons, which were captured in the form of trophies and dismantled piece by piece in our military design bureaus," the official, who is also President Vladimir Putin's First Deputy in the Military-Industrial Commission, said.
"We've learned a lot of useful things for ourselves and turned the enemy's experience to our own advantage," Medvedev wrote.
He said that he had visited many production facilities of the military-industrial complex over the past year and saw them "working consistently, without failures" and fully coping with the state order, which has increased multifold amid the conflict.
Russia's opponents have been "surprised" that Moscow managed to pull this off in such a short time frame, he also pointed out.
Russia's Defense Ministry said last month that the country's air defense systems, including Pantsyr-S1, had been upgraded with special software, making them more effective in intercepting missiles fired by US-supplied HIMARS multiple rocket launchers. Military experts suggested that the program was developed after the study of downed HIMARS ammunition.
According to Medvedev, the US has so far supplied more than 40 HIMARS launchers to Ukraine. Moscow has been saying that most of them have already been destroyed, while Kiev denies this.
Russia has long condemned the supply of Western arms to Ukraine, arguing that this only prolongs the fighting without changing its outcome. According to Moscow, such deliveries, as well as intelligence sharing and training provided to Ukrainian troops, have de facto already made the US and its allies parties to the conflict.
You can share this story on social media: