Russian spy agency reports on NATO arms deliveries to Ukraine
More than 400 tanks and 1,500 infantry fighting vehicles have been transferred from the West, the SVR claims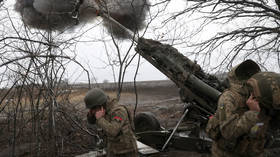 NATO member states have provided Kiev with scores of heavy weapons since December 2021, including 440 tanks and 1,510 infantry fighting vehicles, the Russian Foreign Intelligence Service (SVR) said on Monday.
According to officials, Ukraine has also received 1,170 anti-air and 655 artillery systems, as well as 9,800 rockets for mobile multiple rocket launchers. "Most of the military equipment supplied by the West has been destroyed by the Russian forces," the SVR claimed.
The statement comes a month after Ukraine's top backers, including the US, Britain and Germany, pledged for the first time to transfer modern main battle tanks, such as Leopard 2. While Washington stated in the past that it had no plans to deliver F-16 fighter jets, Pentagon spokesman John Kirby told reporters last week that the US "would welcome" other countries transfering their Soviet-era aircraft to Kiev.
According to the Pentagon, the US provided Ukraine with more than $27.4 billion in security aid between February 24, 2022 and January 20, 2023.
Josep Borrell, the EU's top diplomat, said on Sunday that the bloc was in "urgent war mode." He added that he would propose using the $3.6 billion from the European Peace Facility to buy more ammunition for Ukraine.
Moscow launched a military operation in Ukraine nearly a year ago, citing the need to protect the people of Donbass and Kiev's failure to implement the 2014-2015 peace accords. Russia has since warned that tanks and other Western weapons would not change the course of the conflict but would be treated as legitimate targets.
Russian officials have also repeatedly accused Ukraine of using Western-supplied weapons, including HIMARS multiple rocket launchers and M777 howitzers to attack civilians in Donbass.
You can share this story on social media: