Former Russian president sends warning to US
Dmitry Medvedev argued that his country is fighting for its existence and has the right to use nuclear weapons to defend itself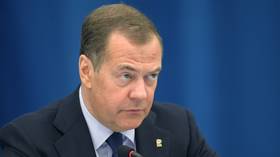 The US is attempting to inflict a strategic defeat on Russia in the conflict in Ukraine, meaning Moscow has the right to defend itself by any means necessary, including nuclear weapons, former Russian President Dmitry Medvedev has stated. He warned that US elites should not consider themselves untouchable.
Medvedev, who serves as deputy chair of the Russian Security Council, was commenting on Wednesday after speeches made the previous day by the leaders of Russia and the US.
Addressing the Federal Assembly, as well as other Russian officials and public figures, President Vladimir Putin announced on Tuesday that Moscow was suspending its participation in the New START Treaty, the last remaining nuclear arms reduction agreement between the US and Russia.
Medvedev claimed that he had long anticipated the move and argued that it should serve as a message to the US establishment, which thought it could "pursue Russia's defeat… but strategic security is another issue." The former leader called this line of reasoning "a bad mistake by the Americans" and warned that "since the US wants to defeat Russia, we have the right to defend ourselves with any weapons, including nuclear."
Medvedev also dismissed Joe Biden's speech in Warsaw on Tuesday as "preaching in an American messianic style." In the speech, the US leader stated that his country had no intention of attacking Russia and urged Moscow to end the Ukraine conflict by withdrawing troops from the territory claimed by Kiev.
Medvedev questioned why Russians would trust the leader of a "hostile" nation that "unleashed wars in the 20th and 21st centuries more than anyone," and who is intent on inflicting a "strategic defeat" on Russia. The former president also argued that Washington could end the confrontation in Ukraine.
"If Russia stops the special military operation before it achieves victory, there will be no Russia, because it would simply be torn apart. If the US stops sending weapons to the Kiev regime, the war will end," Medvedev insisted.
You can share this story on social media: