Russia sets date for historic lunar mission
The Roscosmos agency has repeatedly delayed the launch of Moscow's first post-Soviet moon lander, Luna-25, citing technical issues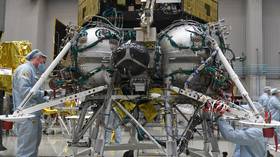 Russia's space agency, Roscosmos, has revealed plans to launch its Luna-25 moon lander mission in midsummer of this year. The project, which would mark the resumption of Moscow's lunar project after a decades-long hiatus, has seen multiple delays over the past few years.
Speaking to Russia's TASS media outlet on Thursday, the Roscosmos press office said, "Taking into consideration the astronomical 'window,' the launch of 'Luna-25' spacecraft is planned for 13.07.2023."
Back in September 2022, the space agency's chief, Yuri Borisov announced the postponement of the launch to 2023, citing discrepancies found in the spacecraft's avionics.
Luna-25 would become the first Russian lunar probe since 1976. Developed in the late 2000s, the mission has, however, been put off numerous times since.
Speaking last April, Russian President Vladimir Putin stressed that Moscow will "resume the lunar program." He went on to note that the plans will be implemented "despite all the difficulties and attempts to interfere from the outside."
That same month, the European Space Agency announced it would cease cooperation with Roscosmos on Martian and lunar expeditions, citing Russia's actions in Ukraine.
With a payload of 30kg of scientific equipment, a robotic arm and a drill, Luna-25 is expected, among other things, to conduct various experiments and take samples of lunar regolith.
The mission's planned landing site is the Moon's south polar region near the Boguslavsky Crater.
Roscosmos has previously expressed hope that the mission will become an "important step in space exploration" that will help deepen the understanding of the "mechanisms of the planets' genesis, the appearance of water and, consequently, of life on Earth."
Meanwhile, other nations, too, are looking to establish their own footholds on Earth's satellite, with America's NASA planning to resume human landings as early as 2025.
China has successfully launched a series of lunar missions in recent years, while India is planning to launch the Chandrayaan-3 lander mission in August of 2023.
You can share this story on social media: