Russia reaches space launch success milestone
A resupply mission on Thursday was the 100th in a row that passed off successfully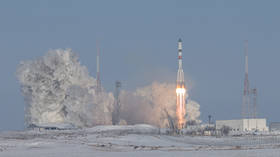 Russia's Roscosmos space agency reached the landmark of 100 consecutive successful launches on Thursday, after sending a freighter to the International Space Station (ISS).
The unbroken run of success began in October 2018 and has involved launches from four different locations: the Baikonur Cosmodrome in Kazakhstan, the Plesetsk Cosmodrome in northern Russia, the Vostochny Cosmodrome in Russia's Far East, and the Guiana Space Center in the French overseas territory in South America.
The vast majority of space-launch vehicles used in the century of successful launches were from the time-tested Soyuz family, with 82 included in the streak. Four belonged to the new Angara models, with heavy Proton and light Rokot rockets accounting for the rest of the missions.
Russia's previous best run of successful launches reached 59 and was registered in the 1990s. That record was broken in June 2021 by the ongoing series.
The 100th rocket on the current list was a Soyuz-2.1a, which carried the Progress MS-22 freighter from the Baikonur facility on Thursday morning. It contained over 2.5 tons of cargo, including 720kg (1,587lbs) of fuel, to resupply the ISS.
Last month, Roscosmos faced a rare challenge after a coolant leak was discovered in the Soyuz MS-22 spacecraft, which is currently docked at the space station. The discovery forced the crew to abort a scheduled spacewalk.
The Russian space agency believes that a micrometeorite pierced the ship's coolant system, causing depressurization. The spacecraft was deemed unsafe to return crew members to Earth, so the next Soyuz capsule will be launched in autonomous mode and used for a return trip in place of its damaged counterpart.
You can share this story on social media: