Russia shares plan for ISS evacuation
Two cosmonauts and a US astronaut remain stranded in orbit due to a coolant leak on the Soyuz MS-22 ship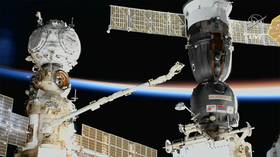 A Russian Soyuz MS-23 craft will travel to the International Space Station (ISS) without a crew so it can be used to evacuate Russian cosmonauts Dmitry Petelin and Sergey Prokopyev, as well as NASA astronaut Frank Rubio from orbit, Roscosmos chief Yury Borisov said on Wednesday.
Petelin, Prokopyev and Rubio, who have been at the station since September, were unable to return home as scheduled because of a coolant leak discovered weeks ago on the Soyuz MS-22 ship. The rising temperatures aboard the spacecraft, docked to the ISS, were quickly stabilized by the crew but the ship was still deemed unsafe to carry the trio back to Earth.
"The State Commission decided to launch the Soyuz MS-23 spacecraft on February 20, 2023 in unmanned mode," Borisov announced, adding that the ship would still be delivering its intended cargo to orbit.
This means that the launch of Soyuz MS-23, which was scheduled to begin its 188-day mission in March, is being moved to an earlier date.
A plan to send at least one crew member aboard the ship had been discussed but ultimately was abandoned, as it would've taken longer to prepare due to the need to provide additional training to the cosmonaut and to make modifications to the ship, the space-agency chief explained.
As for the Soyuz MS-22, the experts have resolved that it's going to make its way back to Earth in unmanned mode, he revealed.
However, this is not going to happen before the arrival of Soyuz MS-23 to the station, Borisov continued, as the damaged Soyuz MS-22 craft may still be needed to evacuate the crew in case of a "specially critical situation" at the station.
In order for Petelin, Prokopyev and Rubio to fly home aboard the Soyuz MS-22, Borisov said, their mission at the ISS would have to be prolonged.
US space agency NASA "has agreed with the conclusions of the [Russian] commission and confirmed their readiness to provide the necessary assistance," he added.
The Roscosmos head also pointed out that studies by Russian experts revealed that the leak at the Soyuz MS-22 had nothing to do with faulty parts, but became a result of "a collision with [an] element of space debris of up to one millimeter in size at the speed of 7,000 meters per second."
You can share this story on social media: