Russia issues space warning
Civilian satellites used by the military could become targets, a senior Moscow diplomat has cautioned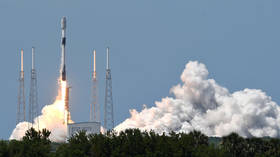 The US and its allies are exposing civilian space assets to potential attack by utilizing them for military purposes, a senior Russian diplomat has warned. The warning came after NATO unveiled plans for a space monitoring fleet that will use commercial and military satellites for its missions.
Konstantin Vorontsov, deputy director of the non-proliferation and weapons control directorate in the Russian Foreign Ministry, said on Thursday that the US is weaponizing space and blurring the boundaries between military and civilian infrastructure in orbit.
American use of spacecraft to benefit other nations on the battlefield "is in fact a form of participation in [conflicts] by proxy," Vorontsov said, adding that "quasi-civilian space infrastructure" in particular could face "retaliation."
"At the very least, such provocative use of civilian satellites is questionable under the [1967] Outer Space Treaty," he stated.
Vorontsov's warning came at a round table discussion in the Russian parliament which focused on the legacy of the Reagan-era Strategic Defense Initiative, and how it influences current US military planning.
Ahead of the announcement of NATO's new space project on Wednesday, Secretary General Jens Stoltenberg said that the US-led bloc will use commercial satellites as a military booster.
"This will improve our intelligence and surveillance, and support NATO missions and operations," Stoltenberg said, adding that this would allow for "better navigation, communication, and early warning of missile launches."
The NATO chief revealed the project as he reported on what the organization was doing to assist Ukrainian forces against Russia.
The fusion between civilian and military equipment in the Ukrainian conflict came to the forefront last week, when SpaceX announced that it was restricting the functionality of its Starlink space internet system, meaning Kiev's troops could not use it to pilot drones.
CEO Elon Musk explained that Starlink was a commercial product not intended for military purposes, and that he did not want it to be used to escalate the hostilities, potentially unleashing a "third world war."
The system remains available to the Ukrainian military for communication, even though SpaceX as a private company could simply switch off the terminals, he added.
You can share this story on social media: