Musk explains purpose of Starlink in Ukraine
SpaceX will not allow its system to be used to start World War III, the CEO has said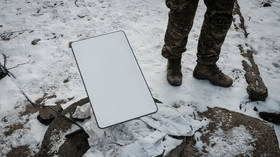 SpaceX CEO Elon Musk has revealed the rationale behind the company's decision to restrict the use of its Starlink internet system by the Ukrainian military. He doesn't want the conflict to escalate into World War III, he said.
The explanation was part of Musk's response to astronaut Scott Kelly, who is a vocal supporter of the Ukrainian cause. Kelly urged restoration of full functionality of the system.
The restriction announced last week bars the Ukrainian military from using Starlink to pilot drones, which SpaceX President Gwynne Shotwell described as "weaponization" of the product.
Musk said Kelly was "smart enough not to swallow media & other propaganda bs" and pointed out that Starlink remained available for military communications in Ukraine, even though as a private company SpaceX had the right to switch the terminals off.
"We're trying hard to do the right thing, where the 'right thing' is an extremely difficult moral question," Musk stated.
We will not enable escalation of conflict that may lead to WW3.
The Starlink system was hailed by US officials as a gamechanger for the Ukrainian military, providing a reliable communication system that Russia allegedly could not disrupt through hacking. But Musk has provoked the ire of Kiev on several occasions, including by proposing a peace plan in October that would have required Ukraine to make concessions to Russia. He faced criticism and insults from Ukrainian officials in response.
Responding to the Starlink change, Mikhail Podoliak, an aide to Ukrainian President Vladimir Zelensky, declared that Musk and Shotwell had only two options: they could either be on Ukraine's side and not seek "ways to do harm" or be counted as pro-Russian.
The same official previously claimed that the Musk-owned social media platform Twitter was limiting the reach of Ukrainian government accounts and helping "Russian propaganda." Podoliak offered no evidence to support the claim, but threatened regulatory action.
You can share this story on social media: