NATO launches new 'surveillance' network
Satellites will facilitate the sharing of intelligence data between commercial and national systems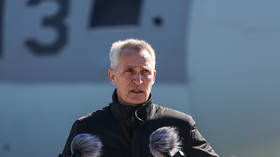 NATO will launch a new "virtual network" comprising national and commercial satellites, Secretary-General Jens Stoltenberg revealed in a press conference on Monday ahead of a meeting of NATO defense ministers.
"This will improve our intelligence and surveillance. And support NATO missions and operations," he said, adding that it would allow for "better navigation, communication, and early warning of missile launches."
The move comes several months after the Russian Foreign Ministry warned that Western commercial satellites being used in the Ukraine conflict are valid military targets.
Stoltenberg acknowledged that the new network – as well as the much-needed replenishment of member nations' weapons stores after a year of fighting in Ukraine – would require increased military spending from those nations. The day's meeting would thus include discussions of how to "maintain and step up defense spending across the alliance," he said.
In addition to "stand[ing] with Ukraine for as long as it takes," he hinted at an expansion of NATO's efforts in Eastern Europe, explaining that "ministers will also address how to step up our practical support for Bosnia and Herzegovina, Georgia and Moldova," whom he called "valued partners which face Russian threats."
While none of the three named countries are NATO members, the bloc has encouraged them to cozy up to it as the conflict in Ukraine drags on. Moldova received EU candidate status in June, Bosnia in December, and Georgia applied for EU membership in March, though none have officially applied for NATO membership.
Russia has adamantly opposed NATO expansion, viewing the military alliance's efforts to encroach on its borders and place missiles on its western flank as a direct threat. Moscow has sought a promise from Kiev that it will never join the bloc, though such a pledge has not been forthcoming.
You can share this story on social media: