Earthquake expert warns Russian region could face same fate as Türkiye
The Russian Academy of Sciences' Aleksandr Gorshkov predicted Crimea may one day face a disaster akin to Monday's earthquake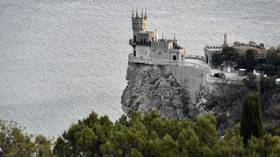 The Crimean Peninsula in southwestern Russia could one day see an earthquake comparable to the natural disaster that struck Türkiye and Syria on Monday, a scientist has warned. The last time the region was struck by a major quake was nearly 100 years ago.
In an interview with Russian news outlet RIA Novosti published on Tuesday, Aleksandr Gorshkov from the Russian Academy of Sciences explained that "Crimea belongs to the Alpine-Himalayan belt, the same structure as Türkiye," and "a repeat of such an event is possible in Crimea in principle."
The most powerful series of earthquakes recorded on the peninsula in recent history took place in 1927. And while the death toll was nowhere near as high as that seen this week in Türkiye and Syria, multiple buildings were leveled.
Since then, there have been several minor quakes in Crimea which have not caused significant damage, including two in January 2021 of less than magnitude 3.
According to the Turkish authorities, more than 3,500 deaths have been confirmed so far, with 22,100 more injured.
In neighboring Syria, the Health Ministry said that more than 800 have perished and around 1,500 sustained injuries in government-controlled areas.
Turkish President Recep Tayyip Erdogan described the earthquake as the strongest the country has seen since 1939.
The World Health Organization has warned that as many as 23 million people could end up being affected by the quake.
You can share this story on social media: