New York state hit by strongest earthquake in decades (VIDEOS)
The 3.8-magnitude tremor occurred near Buffalo on Monday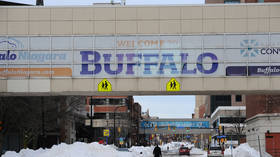 Buffalo, the second-largest city in the US state of New York, was shaken by a 3.8-magnitude earthquake on Monday. The tremor was the most powerful in the area for four decades but did not cause any material damage, local authorities said.
According to the United States Geological Survey (USGS), nearly 3,000 local residents felt the quake, which occurred at about 6:15am. It struck 1.24 miles (2km) east-northeast of West Seneca, a suburb of Buffalo, with a depth of 1.86 miles (3km).
Governor Kathy Hochul posted a tweet confirming the tremor, writing that "no damage has been reported at this time."
The deputy commissioner of Erie County Department of Homeland Security and Emergency Services, Gregory J. Butcher, said shockwaves were felt as far north as Niagara Falls, and in Orchard Park to the south.
Erie County Executive Mark Poloncarz described the quake as feeling "like a car hit my house in Buffalo," adding that he had "jumped out of bed."
Yaareb Altaweel, a seismologist at the National Earthquake Information Center, was quoted by NBC News as saying that earthquakes "happen all the time" in the US Northeast.
Since 1983, seismologists have recorded 24 tremors above a magnitude of 2.5 in the West Seneca region, with Monday's being the most powerful.
Also on Monday, a 7.8-magnitude earthquake wreaked havoc thousands of kilometers away as it hit southeast Türkiye and northern Syria. Less than 12 hours later, a 7.5-magnitude aftershock struck in the same area.
According to the latest reports, the natural disaster has claimed more than 4,000 lives, with the death toll expected to rise further as rescuers clear the rubble.
You can share this story on social media: