Global impact of massive Türkiye earthquake revealed
The quake was felt in Greenland and triggered a tsunami warning in Italy, while causing shaking in Egypt, Israel and Lebanon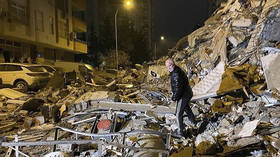 The earthquake that caused widespread devastation in Türkiye and Syria on Monday was felt as far away as Greenland, a Danish seismologist said. The quake, which was followed hours later by a second tremor, was the most powerful to hit Türkiye this century.
"The large earthquakes in Türkiye were clearly registered on the seismographs in Denmark and Greenland," Tine Larsen, a seismologist at the Geological Survey of Denmark and Greenland, told France's AFP news agency.
Seismic waves from the first quake reached the Danish island of Bornholm "approximately five minutes after the shaking started," Larsen said, adding that the waves then reached the east coast of Greenland three minutes later.
Greenland is more than 5,700 kilometers from the Turkish city of Gaziantep, close to the epicenter of the first quake. The 7.8 magnitude tremor struck shortly after 4am local time, destroying thousands of buildings as their occupants slept inside. At least 912 people were killed and more than 5,300 wounded, according to preliminary figures announced by Turkish President Recep Tayyip Erdogan on Monday morning.
More than 300 people were killed and 1,000 wounded in neighboring Syria, according to government figures. The quake was followed by a magnitude 7.5 tremor in the early afternoon, which authorities said was not an aftershock.
The first quake triggered a tsunami warning in Italy, as authorities worried that it could send enormous waves across the Mediterranean Sea toward Italy's Adriatic coast. However, the warning was lifted several hours later.
Its effects were felt in Israel and Lebanon, with residents of Tel Aviv being "jostled awake," according to the Times of Israel. Residents of Cairo in Egypt – located nearly 1,000 kilometers from Gaziantep – also felt the quake, the Associated Press reported. No casualties were reported in any of these countries.
Erdogan said that the earthquake is Türkiye's "biggest disaster" since a 7.8 magnitude quake that killed more than 30,000 people in 1939.
You can share this story on social media: