Ukraine announces new 'Attack Guard'
The Interior Ministry has urged "patriots" to enroll in volunteer brigades and "dispose of enemies"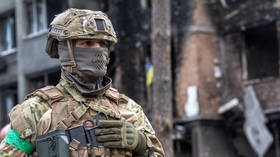 Kiev has called on citizens to enroll in newly-created 'storm brigades', with acting Ukrainian Interior Minister Igor Klimenko saying that the government expects serving police officers, border guards, and members of the National Guard to form the core of the units.
The force, dubbed 'Attack Guard', is intended for Ukrainians "who have enough rage to beat the enemy," the minister said on national television on Thursday.
"First of all, they are the people who went through the furnace of 2014-2015," Klimenko explained as he described the intended recruits. "Some of them went to war in 2022, too. Some of them were injured."
After the 2014 armed coup in Kiev, the new authorities relied on so-called 'volunteer battalions' – militia units formed predominantly from far-right Ukrainian nationalists – to fight rebel forces in the east of the county who rejected the new Ukrainian government.
Those units were given access to heavy weapons and later partially incorporated into the newly-formed National Guard. The notorious Azov Regiment is arguably the best-known entity to have followed that path.
Moscow stated the need to remove extremist forces and protect people in Donbass from a new onslaught by Kiev among the reasons why it sent troops into Ukraine last February.
The 'Attack Guard' website lists eight brigades that recruits can choose from, including one named 'Azov'. Klimenko said six of the units are meant for national guardsmen, while the other two are for police officers and border guards respectively.
Applicants can expect financial compensation, social benefits, and other perks, as well as "an opportunity to dispose of enemies," Klimenko promised. The forces' "immediate goal" is to fully secure Ukraine's "internationally recognized borders."
When asked about the new force on Friday, Kremlin spokesman Dmitry Peskov told journalists that Donbass has yet to be fully secured by Russian troops, "which is why the special military operation continues." However, Peskov added that the security of Crimea, another former part of Ukraine, "is well provided for."
Ukraine has reportedly ramped up military mobilization due to heavy frontline losses, although Kiev denies this. Aleksey Danilov, the secretary of the National Security and Defense Council, claimed in an interview this week that Ukrainians are lining up at conscription centers every day to submit information for possible mobilization.
He dismissed videos circulating online which purportedly show a heavy-handed approach by mobilization officials, claiming they showed the detentions of dangerous criminals.
You can share this story on social media: