Ukraine legalizes foreigners in neo-Nazi regiment
Citizens of other nations who join the Azov unit will receive benefits on par with regular service members under a new law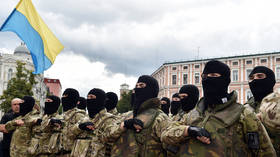 The Ukrainian parliament on Thursday passed a new law that expands perks offered to foreigners who sign up to serve in the country's military. Sponsors of the bill specifically singled out the controversial Azov regiment as an intended beneficiary of the measure.
Azov originated as a group of far-right volunteers who in 2014 took up arms against Donbass forces with Kiev's blessing. The unit was incorporated into the National Guard, a structure separate from the army, in November of that year.
The new legislation has added the wording "and other military units" to several laws that previously only covered the main Ukrainian armed forces. A formal justification of the bill said that there are many foreign nationals serving in Azov, but that the existing legal framework makes their presence in Ukraine illegal and does not allow them to request Ukrainian citizenship. The new law is meant to change that.
Azov is arguably the best known internationally of the Ukrainian nationalist units. Before the conflict between Moscow and Kiev escalated into open hostilities last February, Western officials and media outlets acknowledged that many of the unit's members espoused problematic ideology and that some were neo-Nazis.
An expose published by Time magazine in 2021 called Azov the focal point of "a network of extremist groups stretching from California across Europe to New Zealand." Over the years, it managed to recruit an estimated 17,000 foreign fighters from 50 nations, the report claimed, before describing the dominant role the Azov extremists play in the movement.
After Russia deployed troops to Ukraine, the Azov underwent a rebranding, disposing of its Nazi-inspired official insignia and posing as heroes of resistance. Some prestigious US institutions, such as Stanford University, provided platforms to members of the group.
You can share this story on social media: