Russia hits back at US over nuclear arms treaty accusations
The responsibility for escalating tensions around the New START agreement lies entirely with Washington, says Ambassador Anatoly Antonov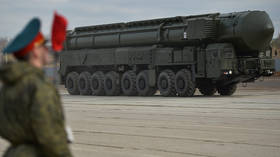 Russia's ambassador to the US has dismissed Washington's claims that Moscow is violating the last remaining nuclear agreement between the two countries. In an interview with RIA Novosti on Wednesday, Anatoly Antonov branded the accusations "sensational," insisting that Russia has always impeccably observed the provisions of the New START treaty.
The US State Department submitted a report to Congress on Tuesday in which for the first time it accused Moscow of breaching the terms of the agreement. Specifically, the report claimed that Russian officials had rejected American requests for on-site weapons inspections and compliance talks.
Responding to the accusations, Antonov said it was Washington that had violated the accords by "illegitimately" withdrawing more than a hundred strategic weapons from accountability under the treaty.
"These actions concern the central limits of New START, undermining the key goal of the agreement – to maintain the balance of the parties' strategic offensive arms," the ambassador said.
As for the claims that Moscow has refused on-site inspections and postponed the next session of the Bilateral Consultative Commission, the diplomat stated that the US was trying to shift the blame and was refusing to see the root causes of the current predicament.
"We have repeatedly pointed out to Washington that the situation around START is a direct result of the hybrid war unleashed by the West against our country," Antonov said.
"We warned them that arms control could not be isolated from geopolitical realities. In the current conditions, we consider it unjustified, untimely, and inappropriate to invite the US military to our strategic facilities."
The ambassador stressed that Russia remains committed to the treaty and sees it as a "useful tool" in ensuring predictability in relations between major nuclear powers. However, he insisted that unless the US reconsiders its insistence on attempting to inflict a strategic defeat on Russia, any advances in the field of arms control are impossible.
The New START treaty was originally signed by then-Presidents Barack Obama and Dmitry Medvedev in 2010 and aimed to halve the number of strategic nuclear missile launchers deployed around the world. Unless extended, the treaty is set to expire in 2026, which the Bulletin of the Atomic Scientists has warned could trigger a nuclear arms race.
You can share this story on social media: