Putin talks cooperation with US ally
The Russian president spoke with the Saudi crown prince, discussing OPEC Plus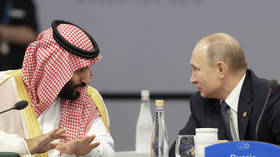 Russian President Vladimir Putin and Saudi Crown Prince Mohammed bin Salman have discussed bilateral cooperation and measures to stabilize the global oil market in a phone call, the Kremlin stated on Monday.
"Issues of further development of bilateral cooperation in the political, trade, economic and energy fields" were discussed, according to the Kremlin. Furthermore, the two leaders spoke of "cooperation within the framework of OPEC Plus to ensure the stability of the world oil market."
Putin and Prince Mohammed have spoken several times since Russia launched its military operation in Ukraine last February, with these calls taking place amid a growing rift between Saudi Arabia and the US, the Kingdom's closest international partner.
Over the last year, Riyadh has deepened its ties with Beijing and declared its readiness to trade oil for Chinese yuan, a move that would threaten the US dollar's standing as the world's dominant petrocurrency.
As the de-facto leader of the Organization of Petroleum Exporting Countries (OPEC), Saudi Arabia further snubbed the US last July when it refused to increase oil production following a meeting between Prince Mohammed and US President Joe Biden. An increase would have simultaneously benefited Biden by lowering gas prices in the US ahead of November's midterm elections, and weakened the Russian economy by reducing its oil revenue.
Instead, OPEC and its allies (a group of nations including Russia that make up the 'Plus' in the organization's title) agreed in October to cut production by two million barrels per day, a move that kept prices steady for the benefit of producers.
With Moscow and Riyadh both interested in maintaining their petroleum profits, the US-backed price cap on Russian oil is viewed in both capitals as a potential threat to revenue. Furthermore, OPEC's members worry that the measure could become "a global price cap" in the future, potentially ruining their economies.
Washington responded to Saudi Arabia's refusal to boost production by threatening to re-evaluate its relationship with Riyadh "in a very deliberate fashion." Democratic lawmakers pressed Biden to halt arms sales to the Kingdom unless it would reverse OPEC's production cut, accusing the Saudis of "colluding" with Russia.
You can share this story on social media: