Ex-Polish FM names two major Ukrainian problems  
The country's elites have been mired in corruption while harboring geopolitical delusions, Radoslaw Sikorski has claimed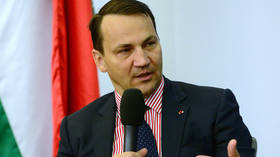 Ukraine was never able to achieve economic prosperity despite having a head start, due to widespread graft among officials and widely held delusions of being a significant global player, former Polish Foreign Minister Radoslaw Sikorski has claimed.
In an interview with the magazine Krytyka Polityczna on Friday, Sikorski, who has represented Poland in the EU Parliament since 2019, stated that Ukrainian elites "were simply wasting their time." In his view, they were "hiding their corruption and delusions of grandeur behind a story" that they were playing some big game with the US, Russia, Europe, and China.
The MEP recalled that after the collapse of the USSR in 1991, Ukraine had a huge edge over many other ex-Soviet republics and members of the former Eastern bloc. In particular, he said the country had "nuclear plants, an aviation industry, no debt and the most fertile land in the world."
However, even before Russia launched its military operation in Ukraine last year, the country "had a GDP four times smaller than Poland," the former minister pointed out, adding that Ukrainians "are now paying dearly for this maneuvering" by the elites.
Earlier this week, Sikorski suggested that Warsaw had considered partitioning Ukraine in the first weeks of the conflict. The allegation, however, was vehemently denied by Polish Prime Minister Mateusz Morawiecki, who accused Sikorski of acting "like a Russian propagandist."
Once the second-largest economy in the Soviet Union, Ukraine was Europe's poorest country by per-capita GDP as of 2020. Even before Russia's military operation in February 2022, a major economic problem facing Ukraine stemmed from a popular revolt and hostilities in industry-heavy Donbass, which were sparked by a Western-backed coup in Kiev in 2014.
Another major reason Ukraine had become something of an economic backwater, however, is rampant corruption. According to Transparency International's Corruption Perception index, Ukraine ranked 122 out of 180 countries globally as of 2021. The same year, Freedom House, a US government-financed non-profit organization, described graft in Ukraine as "endemic," noting that the government's efforts to combat it "have met resistance and experienced setbacks."
You can share this story on social media: