Kiev concedes loss of key town – AFP
Russia claimed full control of Soledar two weeks ago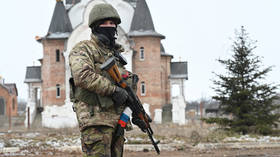 The Ukrainian military has confirmed to Agence France-Presse (AFP) that it has withdrawn from the town of Soledar, a key point of resistance in the battle for Donbass. The Russian Defense Ministry had reported taking full control of the settlement by the evening of January 12.
"After months of heavy fighting, including over the past weeks, the Armed Forces of Ukraine left [Soledar] and retreated along the outskirts to pre-prepared positions," military spokesman Sergey Cherevaty told the news outlet.
Soledar became the focus of intensive fighting in the first half of January as Russian forces pushed forward and encircled Ukrainian troops stationed in urban areas. The Ukrainian government denied reports of Russian advances. On January 17, Cherevaty claimed that Kiev's units were "constantly fending off the enemy."
Earlier, the Ukrainian Defense Ministry warned journalists against covering the fight for Soledar. Military commanders are the only fully informed sources, Deputy Defense Minister Anna Malyar stated, so "only authorized persons can publish information about the movements and positions of our troops."
The remarks, which the official posted on social media on January 15, appeared to be her reaction to comments about imminent defeat for the Ukrainian troops in the Donbass town.
The same week, British newspaper The Times published a damning report about Ukrainian troubles in Soledar. Surviving soldiers cited by the outlet indicated that Kiev had fielded poorly-equipped and undertrained troops, who were outclassed by their opponents.
Some Western governments backing Kiev are also reportedly worried about the high casualties suffered by its forces while defending the city of Artyomovsk (known as Bakhmut in Ukraine), southwest of Soledar. Germany's Federal Intelligence Agency (BND) recorded triple-digit daily fatalities, Der Spiegel reported last week.
US National Security Council spokesman John Kirby assessed that the loss of Artyomovsk would not "strategically change the dynamics on the battlefield." Washington reportedly told Ukraine to stop clinging to the city and focus on preparing a counteroffensive instead, pending the delivery of fresh weapons from NATO states.
Soledar is part of Russia's Donetsk People's Republic (DPR), but had been held by Ukrainian troops since 2014, when the DPR seceded from the country following a coup in Kiev. The republic became part of Russia after holding a referendum in September.
You can share this story on social media: