Kiev sent poorly-equipped troops to defend key Donbass city – The Times
Newspaper paints a grim picture for Ukrainian forces in the strategically important Artyomovsk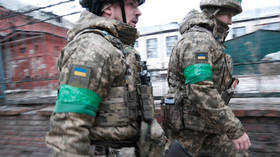 Ukrainian forces in the Russian city of Artyomovsk (called Bakhmut by Kiev), are facing "an often desperate, regularly fatal" situation, according to British newspaper The Times. Monday's claim comes as Kiev officials have been downplaying advances made by Russian troops last week.
At the weekend, Moscow claimed it had fully seized the town of Soledar, located ten kilometers northeast of Artyomovsk. Ukrainian Deputy Defense Minister Anna Malyar claimed on Sunday that fighting for the town was actually ongoing, and warned against publishing what she called "unsanctioned" information about the situation on the ground.
The Times has ignored her order and included accounts from some of the Ukrainian forces that were overwhelmed by Russian soldiers in Soledar, and retreated to Artyomovsk.
One such unit didn't have access to "all the high-end smart weapons given to the Ukrainian army's elite regiments by NATO," the publication noted. Soldiers reportedly had little combat experience. Their participation in the fight for Soledar was mostly shooting in the general direction from which they believe they're under attack, the newspaper said.
The Ukrainian military "has kept its crack units out of the defense of Bakhmut and Soledar," the newspaper reported, claiming that Moscow was interested in capturing them as "symbolic victories" rather than for military considerations.
Artyomovsk is part of a 70-kilometer-long defense line created over the years by Kiev. Russia claims sovereignty over the city along with the rest of the Donetsk People's Republic. The Donbass province joined Russia in October after a referendum, which Kiev rejected as a "sham."
The Russian army credited the private military group Wagner for playing the key role in storming Soledar. The Times dismissed the controversial force as "murderers and robbers, gray from years in its grim jails."
The characteristic is apparently based on claims that the unit recruited convicts, offering a pardon in exchange for risky military service. Officials in Kiev offered inmates in Ukrainian custody the same deal in the early days of the conflict.
The Times claimed that the Wagner Group had suffered heavy losses in Soledar. Evgeny Prigozhin, the head of the force, claimed that an estimated 500 Ukrainian troops were killed in the final stage of the fighting.
You can share this story on social media: