Wagner Group claims important gain in Donbass
Klescheevka is under Russian control, the private military company's chief Evgeny Prigozhin says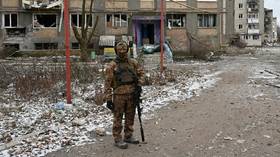 Wagner Group troops have captured the strategic village of Klescheevka in Russia's Donetsk Region from Ukrainian forces, the head of the private military company Evgeny Prigozhin has said.
"One can safely say that the settlement of Kleshcheevka, which is one of the important suburbs of Bakhmut (called Artymovsk in Russia), has been completely taken under control by the Wagner PMC units," Prigozhin claimed in a statement distributed by his press service on Thursday.
But while Kleshcheevka has been reportedly "liberated," intense fighting continues around the settlement, with "the opponent clinging on to every meter of land," he pointed out.
The Russian Defense Ministry hasn't yet commented on the situation in Kleshcheevka.
"Contrary to some opinions that the Armed Forces of Ukraine are fleeing Artyomovsk, this is not the case," Prigozhin said, but still expressed confidence that Artyomovsk, which is a major Ukrainian stronghold and logistics hub "will be captured."
Klescheevka is located around 9km southwest of Bakhmut. The village, which was populated by just over 500 people before the conflict, had been heavily fortified by the Ukrainian military.
The claimed capture of Klescheevka follows the Russian takeover of the key town of Soledar last week as well as several other settlements in the area as part of the operation to encircle Artyomovsk.
The Russia Defense Ministry praised "the courageous and selfless actions" of the Wagner Group's strike teams during the battle for Soledar, but pointed out that victory was achieved by a "mixed group of forces," including aviation and artillery units.
Late last year, the US Department of Commerce labeled the Wagner Group "one of the most notorious mercenary organizations in the world" and put it on the Military End User List, which could potentially restrict the company's access to any technology made with American equipment anywhere in the world.
Prigozhin ironically reacted to the move by saying that it will definitely make it tougher for the Wagner Group to get ammunition and repair the M-777 howitzers and other US-supplied weapons that its troops have allegedly seized.
You can share this story on social media: