New wave of strikes reported against Ukrainian power grid
The country's energy minister has warned that the "next few days will be difficult"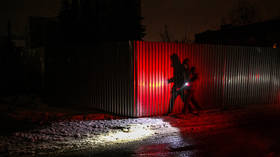 Multiple critical infrastructure facilities across Ukraine came under attack on Saturday, local officials and media outlets have reported. The strike has prompted emergency power outages in several regions of the country, Energy Minister German Galushchenko has said.
"There were hits in Kharkov, Lviv, Ivano-Frankovsk, Zaporozhye, Vinnytsia and Kiev regions," Galushchenko wrote in a Facebook post, warning that the "next few days will be difficult."
Ukraine's largest private energy operator, DTEK, has reported damage to two thermal power stations (TPS) under its management. The facilities were targeted in previous attacks as well, the company noted, without specifying exactly which TPS have been affected. Unverified footage circulating online, however, suggests that a power station in Kiev Region was hit.
At least one residential building was allegedly damaged amid Saturday strikes, which happened in the southeastern Ukrainian city of Dnepr (previously known as Dnepropetrovsk). While the cause of the incident was not immediately clear, and Ukrainian anti-aircraft defenses have previously inflicted damage on residential areas on numerous occasions, the local authorities have squarely blamed Russia for attacking the building.
Russia drastically ramped up its strikes against Ukrainian infrastructure in early October of last year, citing repeated Ukrainian sabotage on Russian soil, including the bombing of the Crimean Bridge, which Moscow blamed on Kiev's military intelligence service and its Western handlers. Although the incident was widely cheered by top Ukrainian officials, Kiev has denied any involvement in the massive car bomb blast that heavily damaged the road section of the bridge and killed three civilians.
You can share this story on social media: